Don't Get Around Much Anymore
| | |
| --- | --- |
| Composer: | Chris M &nbsp(click to list other tunes) |
| Submitted by: | Chris M |
| Posted: | 2/20/06; 7:01:19 PM |
| Msg#: | 4750 (top msg in thread) |
| Prev/Next: | 4749/4751 |
| Reads: | 2923 |
Download track using:
I have written a slightly different arrangement for Duke Ellington's Don't Get Around Much Anymore. I did this because 1) I wanted to try the Workscore editor with a song I knew, and 2) I can never find this song in this key, which I transposed for my singer. This arrangement is also a bit different than the one on this site, so I figured SongTrellis could also benefit from having this here. Now, I can practice soloing over this song now that it is nicely on Songtrellis in the key I need.
I noticed that the score is chopped off after 28 bars though. It still plays though. The chords after the "end" of the song are: E7 Gbm7-5 Gm7-5 Abm7-5 | Abm7-5 | Am7 | D7 | G | Am7 | D13 | G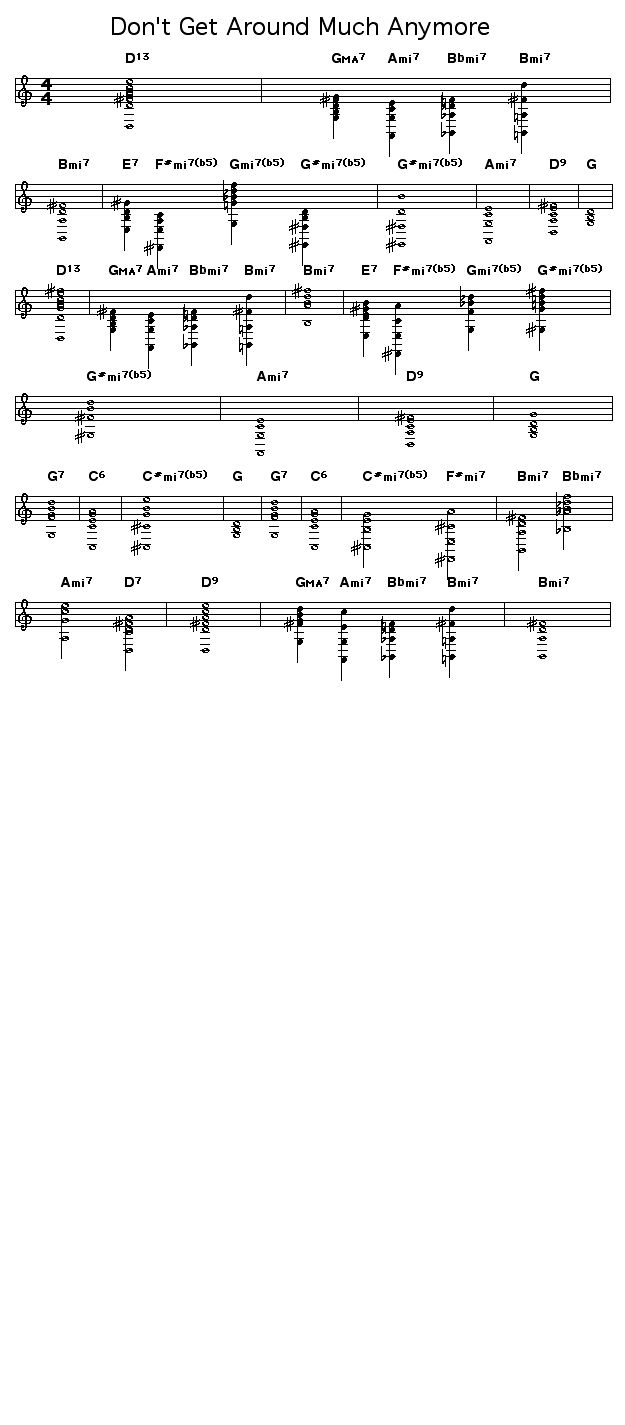 Launch the SongTrellis Excerpt Service for this track (Follow the link)

Customize this piece: Prepare scores for transposing instruments. Transpose the score to a new key. Change tempo. Clip an excerpt for your own practice, study, or composition work. Loop that in your browser or download it if you wish.

Video Demo: Excerpt Service Basics Video Demo: Saving Excerpts
---
There are responses to this message:
blog comments powered by
---
Please join our community at SongTrellis. Our contributors welcome your comments, suggestions and requests. As soon as you join the site (or login if you are a member) a response form will appear here.
To include this sound in a page, type "Don't Get Around Much Anymore 6", including the quotes.
Check home page to learn about newly submitted tunes, chord progressions, and rhythms.